Dr. Eric Herbranson – Through the Keyhole
Dr. Eric Herbranson, who loved model airplanes as a child, discusses the philosophy that has allowed his practice to soar.
What can you tell us about your background?
I was born in the Los Angeles area and raised in the San Fernando Valley in a suburban area with lots of neighborhood kids. My father owned a successful glass shop, which my mother, brother and I worked at off and on. I built model airplanes obsessively, which I credit for developing my mechanical/spacial relation skills and the patience to see a project to its finish. I've still got a pretty good understanding of aerodynamics! My father was an amateur photographer and had an underutilized darkroom in the house that I eventually took over. I developed my first roll of film at age 10. That led to a lifelong involvement with photography. My older brother was a very good craftsman, taking after my grandfather who was a Danish-trained, "hand tools only" finish carpenter. I was his junior assistant in many projects. From them, I developed a love of woodworking and an appreciation of craftsmanship.
I transferred to a parochial school in the fifth grade and continued in that school system through high school, college, dental school, and graduate school. My high school experience was particularly valuable since about half the students were the children of physicians—smart and very goal oriented. It was a good place to be a nerd. For example, my senior year advanced biology class had 12 students of which 11 ended up with doctorate-level advanced degrees. The realization I was able to compete with that level of talent and exposure gave me the mentoring, confidence, and interest to further my education. I am the only member of my family to have a degree past high school. My college degree was in physics because I loved to understand how things worked, and it didn't require much memorization!  I eventually attended Loma Linda University and graduated with a DDS and an MS in Endodontics. It was and is a great school, and I had a great experience there.

When did you become a specialist and why?
I taught at Loma Linda for a year after my DDS degree and then went into the endo residency program. I chose endodontics because of a naive belief that my skill could control the success of the procedure; that the patient couldn't screw up your work, and it was a narrow enough field that I felt I could develop mastery.  Plus, I was insecure about my ability to relate to patients. Of course, once in practice, I found out I loved the patient interaction and was quite good at it.  I also found out the patients have more control over our success than we would like. I'm still chasing mastery. It took a few years in practice to appreciate the complexity of what we do.

Is your practice limited solely to endodontics, or do you practice other types of dentistry?
Our practice, in San Leandro, California, is exclusively endodontics with the occasional restorative procedure for friends and relatives. We do provide a full-service endodontic practice; however, including diagnosis, appropriate restorative and surgical procedures, and now implants, by my partner Dr. John Jaber.

Do your patients come through referrals?
Most of our patients come to our practice through referrals, but we have been in practice long enough that we get self-referrals from previous patients and have developed long-term relationships with a few patients. I had a patient last year who I had diagnosed 15 years previously who had saved my card for that whole time. I routinely have patients look at me and say, "You're not going to retire are you?"

How long have you been practicing endodontics, and what systems do you use?
I graduated from dental school in 1970 and from my graduate program in 1973. I will let you do the math on how long I've been in practice!
We are a typical quality-oriented, technically advanced endo practice with all the appropriate toys. We've always been early adopters with technology. I made a total commitment to microscopes in the early 90's equipping the whole office from the beginning. To force myself to use them, I removed the overhead lights and used the microscope as the dental light. That way, it is always nearby, and I use it on virtually every case. We have digital radiography, digital imaging, TDO practice software, and were the first in our area to purchase a cone beam scanner.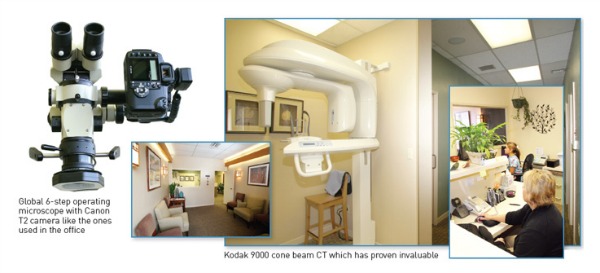 Continue reading HERE.
Thanks for visiting Modern Endodontic Care.